Canopy Replacement
Whether it's from years of wear and tear on the lake or storm damage, we've got you covered with high quality canopy replacement.
Now, where do you start? We can help you there!
The first thing when requesting a canopy replacement estimate is to determine the brand and size of your new canopy. What will you be covering, what function do you need out of the covering, and what brand has just what you need?
Follow the link below for a handy document that will allow you to find a list of lift manufacturers, and help us determine the proper replacement based on the dimensions of your lift. If you are unsure of your lift's dimensions, a detail sheet for each brand will instruct you on how to take these measurements.
The document in the link below will open in a separate window so you can then enter the information on our contact page.
When going through the canopy selection process, we know the color and fabric of your new covering is significant to summer day fun(ctionality).
We have an array of canopy color and material choices for you to choose from and we are here to help you through your selection. To get started, check out our options below!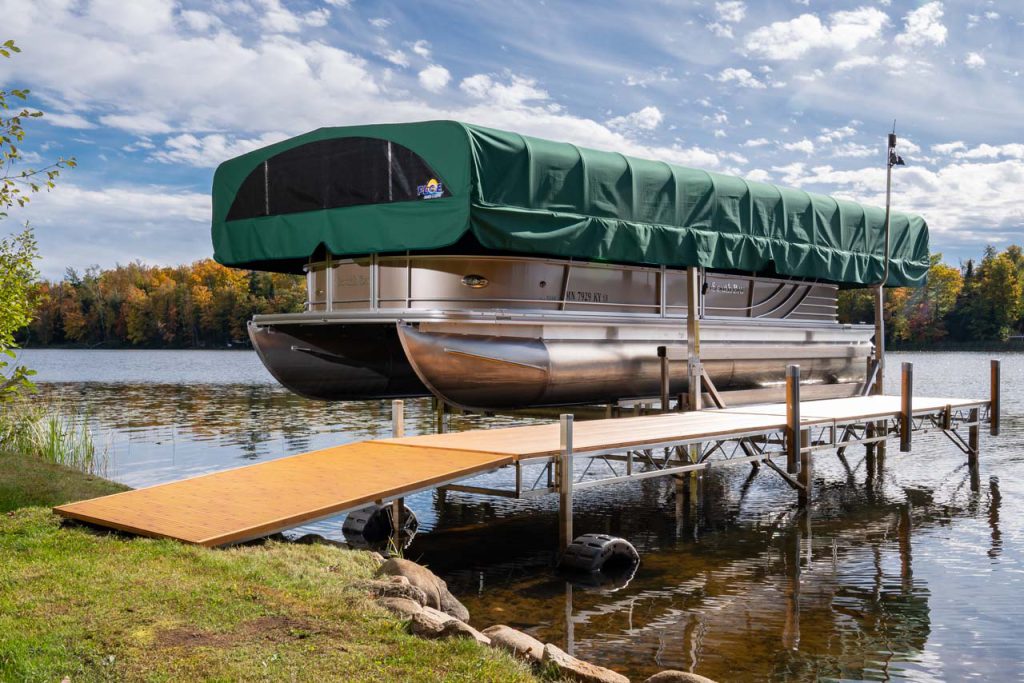 Canopy Colors
Harbor-Time™
Harbor-Time is made from hybrid-coated polyester and is ideal for harsh marine environments because it offers exceptional resistance to abrasion while maintaining superior strength and visual appeal. Your customers will get compliments on its cloth like appearance. Harbor-Time is a highly water repellent cloth that is resistant to both mildew and ultraviolet light making it a durable choice for boat lift marine applications. Rush-Co has perfected heat welding Harbor-Time fabric seams (not sewn). An average cover weighs 42 lbs.
Note: The Glen Raven Mills 5-year colorfast warranty applies to Harbor-Time™ fabric.
Available Colors

Beige Suede

Cordovan

Mallard Green

Nautical Blue

Onyx

Putty

Shale
Available Colors

Black

Cadet Gray

Charcoal Tweed

Dubonnet Tweed

Hemlock Tweed

Linen Tweed

Royal Blue Tweed
RecWater
RecWater is made of solution-dyed acrylic fibers with PVC coating on one side. The PVC coating is color matched with the acrylic, thus, combining the elegance of the acrylic fabric with PVC for 100% waterproof performance. The 19oz waterproof fabric makes RecWater a suitable option for your boat lift cover in extreme weather conditions. RecWater has a 5 year warranty.
WeatherMax®
WeatherMAX, with its solution-dyed yarns, is designed to be water-tight and breathable. Our exclusive HydoMax TM finish delivers unsurpassed water repellency and mildew resistance maintaining the fabric's natural breathability. Engineered for long-term color and strength retention, Weathermax outperforms and outlasts other marine fabrics including acrylics and solution-dyed polyesters. This lightweight, easy-to-handle fabric is unmatched in appearance and provides superior performance.
*WeatherMax is water-repellant, not waterproof. Under heavy periods of wind-driven rain, storms, etc., WeatherMax may experience water being pushed thru the fibers/material and you may experience some water seepage.
Available Colors

Burgundy

Forest Green
Pacific Blue

Sandstone

Sapphire Tweed

Hydrofend Black

Hydrofend Iron Gray
Available Colors

Admiral Navy

Black

Desert Beige

Forest Green

Iron Gray

Meteor Gray

Pacific Blue
Hydrofend
Hydrofend is made from solution-dyed polyester with a water resistant back coating. This marine fabric is engineered for superior hydros and breathability. The coating on the underside prevents abrasion while the matte, woven top gives an attractive, outward-facing look. This easy to put on/off the lift, light weight 8oz. water-resistant material is a great option for your boat lift canopy. Hydrofend has a 5 year warranty.
Shelter-Rite® SR18 by Seaman Corporation
The foundation of the 18 oz. vinyl coated fabric is a 5 ounce high-tenacity (strongest) polyester yarn. The top side and underside have 6.5 ounces of coating that provides superior tear resistance, ultra violet and anti-fungal protection, and water tightness. All seams are heat welded (not sewn). Shelter-Rite 18 oz. will not stretch, shrink, or rot. An average cover weighs 65 lbs.
Shelter-Rite® SLT13 by Seaman Corporation
The foundation of this new LIGHTWEIGHT Shelter-Rite SLT13 is identical to the Shelter-Rite 18 oz. fabric except the underside coating was reformulated and reduced to 1.5 ounces. We are able to reduce the weight of the fabric while maintaining the same tear resistance, ultra violet and anti-fungal protection, and water tightness as SR18. All cross seams are heated welded (not sewn). SLT13 will not stretch, shrink, or rot. An average cover weighs 47 pounds.
Available Colors

Black

Maroon

Gray

Tan

White

Royal

Green SR

Forest Green
Fill out the contact form linked below, telling us your canopy replacement information. We'll get back to you with an estimate and further questions we might have ASAP.